High Performance Degreaser
Oil Spill Clean-Up Operation 1: Faro Islands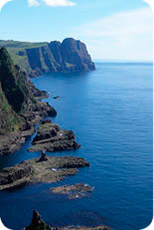 Mykal Industries were approached in March 2007 by a company which had been awarded the task of removing heavy crude oil from a rocky shoreline and concrete quayside on the coast of the Faro Islands following a spill at sea.

They required a suitable cleaner to remove the oil from the contaminated surfaces without damaging the surrounding environment.

Mykal presented their De.Solv.It® High

Performance Degreaser (DSI 1000), a citrus based, non-flammable solvent degreaser, for consideration.

High Performance Degreaser (DSI 1000) is both MMO and Marine Scotland certified for use as a Surface Cleaner Oil Dispersant for exactly this type of operation. It has been used previously to clean up oil spills in Alaska, USA (Exxon Valdez, 1989) and the UK (Sea Empress, 1996).

These certificates of approval were presented to the Faroese Authorities for examination along with answers regarding biodegradability (DSI 1000 readily biodegrades) and bioaccumulation (DSI 1000 does not bioaccumulate), which were deemed acceptable for use.

The High Performance Degreaser (DSI 1000) was sprayed over contaminated areas and allowed to act for 15-20 minutes. When applied to heavily oil contaminated surfaces, the solvent starts to penetrate the oil immediately. It breaks the bonding of long chain molecules, reducing viscosity whilst simultaneously destroying the adhesion of the oil to the substrate.